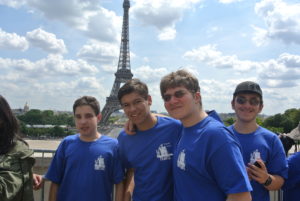 Summit first offered our Teen Travel program in the 1980's. As it is today, Teen Travel was provided as an opportunity for the growing Summit teen population to continue adventuring outside of our resident camp experience, which began in 1968. Motivated by the growing number of teen travel opportunities, our first groups of Summit teens expressed a wish to participate in these type of 'rite of passage' experiences that their neurotypical siblings and classmates were talking about at home and in the school communities. The Summit leadership of the time saw the potential for a wonderful benefit to our unique groupings to have an experience of independence and immersion with peers- something they, too, could talk about around the cafeteria or dinner table. Thus, Summit's tours have always focused on creating an experience that mirrors those of other teen travel offerings, while providing the appropriate support and peer groups that make our teens successful on their journey.
Today, Summit Travel serves teens both from within and new to our programs. Many youth who have never attended our resident camp will join us to participate in a travel journey. New program applications for travel are reviewed on a case by case basis- including a meeting a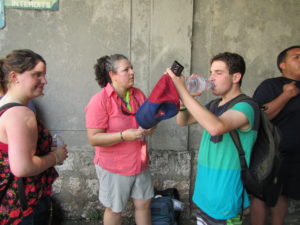 nd conversation with our Travel Director, Thea Mullis and the potential traveler in addition to the traditional review by our Admissions Director, Maryann Santora, MSW.
Summit Travel features both national and international tours. Examples of recent tours include Costa Rican Adventure, The Pacific Northwest, British Isles, and Theme Parks of Orlando. Flights/transportation, meals, accommodations, and amenities are all inclusive on Summit's tours. All tours are staffed by our most enthusiastic, motivated, and diligent counseling staff at a 5:1 ratio- and certainly our staff view it as an honor to be selected to work such a tour. In addition, each tour will be staffed with a registered RN/LPN and the Travel Director or another experienced staff that is designated as a the Head Travel counselor. International tours also generally have a guide online provigil provided through the coordinating agency- always in non-English settings.
Summit's travel programs have grown in number and variety over the years such that Summit now offers three tours which match the dates that our resident summer camp offers in the eight week summer season. There will be a three week tour at the start of summer (late June to mid July), a two week tour the last weeks of July, and a different three week tour offered entirely in August. For this season's exact dates and rates, please visit here.
2017 tours include Prague, Budapest & Vienna (June-July), Caribbean Sun (July), and Great Lakes Adventures (August).
Prague, Budapest & Vienna: Highlights
Visit the walled city of Prague; the Jewish Quarter, communities of Bohemia and Moravia
Travel by High Speed ferry to Bratislava; the Pressburg Castle
The Hotel Gellert and its historic swimming pools
Schoenbrunn Palace, the Schoenbrunn Zoo, visit the Belvedere Palace
Vienna; the Spanish Riding School and the Lipizzaner Stallions
Caribbean Sun: Highlights
The Everglades, Miami, and the Theme Parks
Coe Visitor Center, Shark Valley and Anhinga Trail
Little Havana Vizcaya Museum, Ocean Drive and Lincoln Road, the Art Deco District
Yucatan, the beach at Cancun, travel into the jungle to visit the Mayan ruins of Chichen Itza
The Wizarding World of Harry Potter at Univeral, New Sea World
Great Lakes Adventure: Highlights
Cave of the Winds, the Bridal Veil, Boat ride up to Niagara Falls
Cedar Point, the great Roller Coaster Capital of the World Theme Park
Lake Erie region; ride an airboat, Great Wolf Lodge, gem stone mining and the mysteries of Perry's Cave
Mackinac Island, Arch Rock, Fort Mackinac, and the Butterfly House
High speed ferry across Lake Michigan, Bloomington, Minnesota and the Mall of America
If you are interested in our travel programs for your teen, it is important to reach us to discuss possibilities. Full itineraries for each tour are available upon request.
Take a look at a slideshow from one of our 2016 tours, Costa Rica!