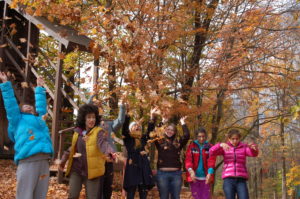 Summit's Weekender programs serve the Metro NYC and Metro DC areas, providing ongoing social skills immersion groups throughout the year. Recognizing a growing need for social group experiences for youth that have learned the basic skills for social interaction, but not had many real-life social inclusions that take place outside the school setting, Summit's Weekenders have grown over the past five years to include a variety of fun, adolescent-friendly activities that attract both current and new families to get their teens up-and-out for the occasional weekend.
In 2009, Summit leadership began our Weekender area groups in the hope of helping our summer participants continue their friendships and growth over the school year. While camp and travel programs both provided intensive and long term opportunities for our teens to develop relationships, it was clear that it would be a great benefit to provide families with a safe and supported environment to continue those friendships over the 'off season' from camp. Weekender thus began with a few yearly offerings in locally rented winterized camp locations in the Washington DC and Metro NYC areas, where groups of teens from camp could come together, hang out, play games, and do some activities for a weekend with their camp friends under the same helpful support and supervision that Summit always provides- trained counselors and a nurse on staff, structured program offerings, and social support. It also became evident quickly that due to the trusted nature of Summit to provide an appropriate environment for their youngster, the family was able to benefit from the respite provided by the Weekender activities.
In just these six short years, Weekender program has grown to include a number of weekend 'destination' trips including theme parks, horseback riding, holiday events, winter sports, and more, all while still keeping our traditional camp weekends alive and in a local facility. Furthermore,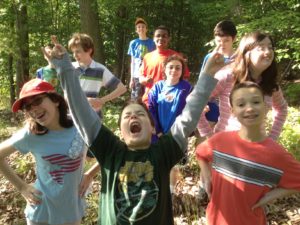 Weekender has grown to include many participants in need of a social skills group experience that either cannot or have not attended a summer program. Summit's unique population grouping- adolescents that have all the skills to make friendships and to interact with peers, but yet find it difficult to make lasting friendships or find a group to 'fit in' with, offers a very unique social skills program for those who have "outgrown" the afternoon learning lab.
For Summit, a Weekender provides an experience for our teens to really "be social" in an honest, accepting, but wholly natural environment- adults are there for support and guidance, but, the time spent with peers truly is independent and non-directed. Our teens are motivated to interact and want to make friends- and Summit's Weekenders, like all of our programs, is a wonderfully unique opportunity that brings together a number of youth that are remarkably similar in that challenge.
Summit Weekenders continue from September to May with anywhere from 15-50 participants per occasion. Staffing is done on a 5:1 ratio, plus a nurse and one of our Directors (Sally Bell, Metro NY, or Thea Mullis, Metro DC). There is an online application including phone interview for any new potential weekender participant that has not attended one of our camp or travel sessions.