Summit Camp is an American Camp Association accredited residential camp that has been serving children and teens with learning and social challenges and their families since 1968. Summit is a premiere program that meets the unique social and emotional needs of young people who have difficulty with sustaining friendships. Our campers enjoy an atmosphere completely designated to their success: fun, friendship, and independent growth.
Currently our summer camp runs for a total of eight weeks each summer season. The camp season includes three sessions, a three week session that starts in late June and goes to mid-July; a three week session that goes from mid-July into early August, and then a two week session entirely in August that will feature some specialty area choices for campers- such as arts, adventure, or athletics.
Summit Camp is an entirely special needs community serving from 150-280 youth per session. This large setting allows our youth to feel like part of a true community of same-age peers, many of them for the first time! Our campers are grouped in cabins of 8 per bunk with 3 staff within the following age groups : 8-12 years (Lower Camp), 13-14 years (Middle Camp), and 15-19 years (the Upper Camp or 'Super Teens' Program). Each age group will participate in a program that is geared towards the social and developmental needs of their cohort.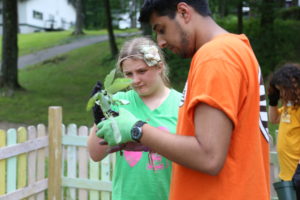 Lower Camp for Ages 8 – 12
A traditional camp program that includes a highly structured schedule of arts, athletics, outdoor education, nature, waterfront, and specialty activities in a six period day. Campers also participate in a social skills development program and a program to improve executive functioning skills as a part of regular weekly program.
Bunk selections are carefully made through the course of the application process; campers will be bunked with others that have a similar profile of strengths and needs. Campers participate in all activities as a part of their 8 camper bunk with their familiar staff, with most activities being structured for one bunk group at a time. Support is offered for each camper's individual needs while encouraging group participation, personal engagement, and trying the new and novel.
Middle Camp for Ages 13-14
Our transitioning adolescents will continue to participate in a structured program of camp activities across a 6 period day, however more options of choice and individual expression are built in for this age group- the ages most desiring of ways to assert thei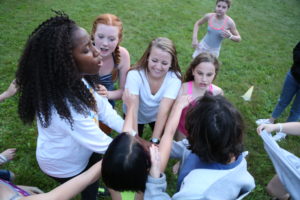 r independence. Arts, performance, athletics, outdoor education, nature, waterfront, and specialty activities are offered with the use of option within, such as selecting between a variety of arts programming areas rather than having a set schedule for a music or ceramics class. The middle camp age group also enjoys a great deal of specialty games and activities that encourage team building and collaboration, as they are strongly desiring peer input and acceptance in a very new  way. Middle camp theme days have included activities as large as a wacky Olympics during the 2016 summer Olympics or as simple as having a pajama day- but these events create a special feeling of belonging our 13-14 year old campers are uniquely craving. Evening social opportunities include talent nights and sports nights that are inclusive and encourage positive reactions towards their peers. Campers continue to participate in a social skills development program and a program to improve executive functioning skills as a part of regular weekly program.
Bunking for middle camp is completed through assessing new campers' applications along with the profiles and requests of former campers. Throughout the day many activities will be coordinated with 1-3 bunks of campers. Each camper is supported individually while encouraging acceptance and tolerance towards peers, use of personal coping skills, and identification of individual strengths and successes.
 Upper Camp, or "Super Teens", for Ages 15-19 Years
Teens who join us at Summit in their later adolescence will participate in a program geared towards vocational and personal development referred to as the Super Teens. This program universally serves all our older participants in all sessions. This program is comprised of three unique goal areas: social inclusion and development, vocational development, and transition to adult living skills.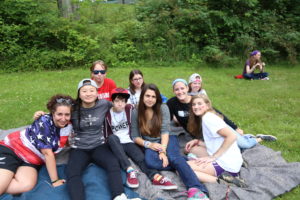 While campers continue to have opportunities to participate in certain traditional aspects of camp life- such as swimming and arts programs- these are combined with a greater level of programming for work periods on camp. As such, Super Teens is much like a 'counselor in training' program but geared in a very specific way to meet the unique needs of our teens. Teens earn money for daily work periods waitering in the dining hall, as well as participating in a camp 'job fair' that includes interviewing and choosing possible areas for job success. Rather than training as counselors, our teens will be working as a shop assistant, helping sort incoming emails and packages out to younger campers, or serving as a "big brother" or "big sister" to a single camper in the youngest bunks. Teens will participate in a twice weekly program for transitions skills that includes covering healthy cooking and shopping for meals, personal hygiene and dress for various environments, interpersonal relationships, and further education/career prospects. Teens continue to participate in a program specific to social skills development that focuses on more complex social interactions and behaviors- for example, how to excuse yourself when you are no longer interested rather than simply walking away.
Teen bunks include 8-10 campers per bunk and 3 counselors. Many activities throughout the day are combined with same age peers from across the Super Teens groups, and some work periods are independent or small group participation- there is a lot of variation in this community style program. Bunk selections are made through reviewing new camper applications, former camper established peer relationships, and prior camp experiences. Due to the nature of the program, Summit still receives a large number of new applicants for our Super Teen programs- including many youth that have never been away from home before.